Buy Paints for Kids Art Projects | non-toxic
Retail • Wholesale • Schools

View our online store, click here!
Nature of Art for Kids® is an online retail and wholesale paint company.
You can order products 7 days a week online.
ALL U.S. ORDERS SHIP 3-7 BUSINESS DAYS
All paints are art teacher approved.
Great for chemically sensitive artist
Acrylics come in 3 primary colours
plus Black & White
• Five Colours 
Red

, 

Yellow

, 

Blue

 

White

 & Black
Acrylic Paints also used for Watercolour & Colour Theory
• Makes 12-step colour wheel perfectly!
• Can mix into secondary colo
rs like green, orange, purple and brown
• Black & White helps mix tints, shades, tones and different hue values.
• Coverage is both opaque and transparent.
• Also dilutes down to a watercolour paint!
"My inability to find safe true primary colour paint to mix into a 12-step colour wheel for teaching colour theory led me to create my very own safe earth-freiendly artist paints. I ventured, and made a specific paint for children's projects, and application for true artist surfaces that last.
Our non-toxic paints are tested by a toxicologist and not harmful if ingested, absorbed or inhaled. Our paints are ASTM D 4236 labeled. We follow the guide provided by the American Society for Testing and Materials. All products selected in this catalog are suitable for a young child's first art experiences."
Spramani Elaun All Rights Reserved © 2016
Paints on artist surfaces like; paper, rocks, wood surfaces, canvases and so much more.
• Paints on artist canvases
• Paints on rocks
• Paints on wood surfaces
• Paints on paper products and cardboard
• Paints on watercolor paper
• Paints on almost any surface like glass, fabric and Styrofoam

 Made for children and artist sensitive to chemicals in typical adult-grade acrylics.
• No Strong Scent!
• Water-soluble
• Zero V.O.C. (Free of violent organic compounds)
• Non-Toxic Certified and Made by ACMI approved facility.
• Conforms to ASTM D 4236 – E.P.A. Standards
• Made and bottled in the U.S.A.
• Acrylic resin, mineral & synthetic colourants
• Nature of Art For Kids® sustainable San Diego company.
Read What Makes A Paint Environmentally Friendly, Read Full Blog Here! 
Comes in 4 sizes
8 oz
16 oz
32 oz
Comes in 3 primary mixing colors, plus black and white
Red
Yellow
Blue
White
Black
3 primary colors mix perfect color wheel.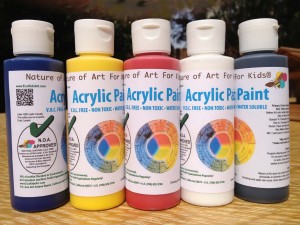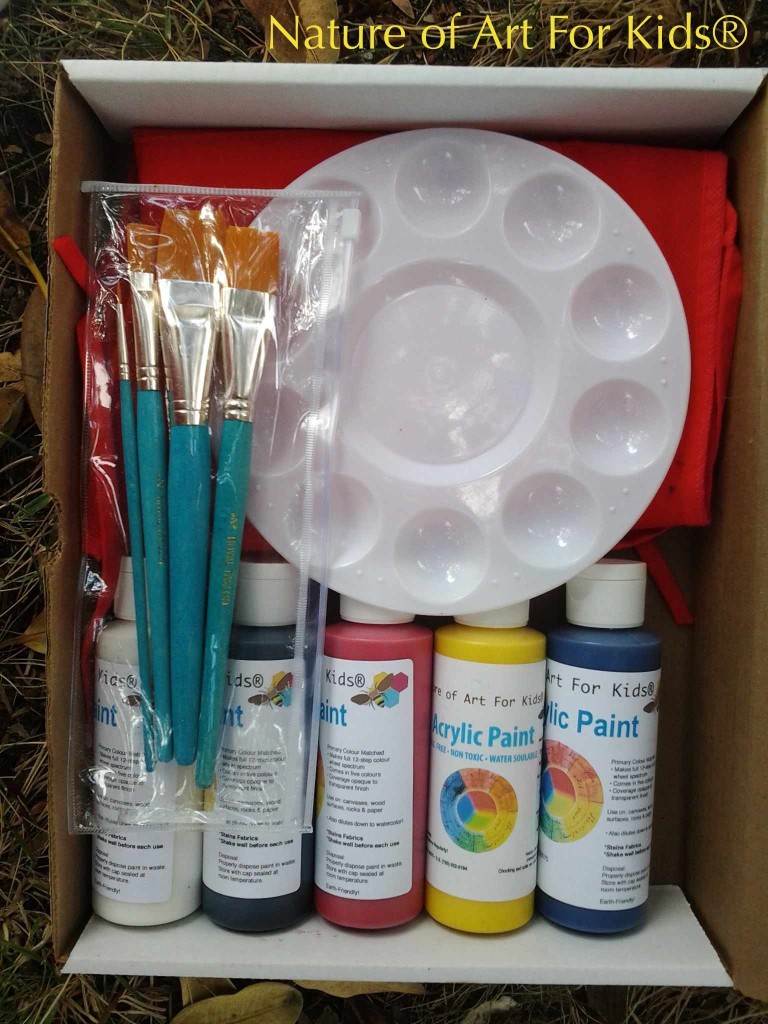 Buy all 5 colors in different sizes:
Kids Acrylic Paint | Art Projects

We sell Finger Paint & Watercolour too!
• Safe non-toxic U.S. Made
• Thick and liquid feeling
•Paint Base is Corn Starch & Water
Ready friendly comes in three sizes 4 oz, 8 oz, 16 oz 
Comes in three primary colors Red, Yellow & Blue which mixes into secondary colors perfectly.

Nature of Art For Kids is based out of San Diego California.
All our Acrylic & Watercolor paints are shipped, made and packed here in California.
Contact : (760) 652-5194
Mailing Address: P.O. Box 443 Solana Beach, Ca 92078
http://atosb.raxtf.servertrust.com/ProductDetails.asp?ProductCode=NCVAN%2DD
http://nurturingvisualarts.com
http://www.seventhgeneration.com (live eco)